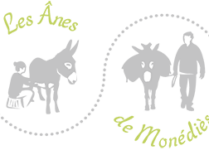 To contact the anes of Monédies
The Donkeys of Monédiès
Pier Paolo and Victoria ZENONI
Les Bréfinies
12300 Almont-les-Junies (Conques)
Tel:
+33 (0)5 65 43 19 51
+33 (0)6 33 30 44 78
+33 (0)6 89 91 30 16
Mail : lesanes@monedies.fr
The nearest train station:
St Christophe Vallon train station – 27 km
Nearest airport:
Airport of Rodez / Salle la Source – 37 km
Belgian friends : there is a RyanAir line: Charlerois-Rodez or Brussels-Rodez.
We offer to pick you up and drive you to the train station or airport.
Taste before your departure, the good milk of anesse
At nunc si ad aliquem bene nummatum tumentemque ideo honestus advena salutatum introieris, primitus tamquam exoptatus suscipieris et interrogatus multa coactusque mentiri, miraberis numquam antea visus summatem virum tenuem te sic enixius observantem, ut paeniteat ob haec bonnea tamquam praecipua non vidisse ante decennium Romam.