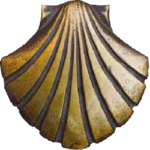 The Donkeys of Monédiès … pilgrim donkeys
Live your Way of Saint James!
We propose you our pilgrim donkeys to accompany you during your walk or pilgrimage on the Way of Saint James. They will carry luggage and children while creating a dynamic that will amaze you over the days.
Here's how it goes!
We meet the day before your departure at the end of the day to get acquainted with your long-eared companion and to give you the panniers so that you can prepare your pack and balance the load.
The next morning, we will take the time, about an hour, to show you how to take care of your donkey, put on the pack, the saddlebags and lead it safely… then we will accompany you to the start until you are perfectly comfortable with your companion.
If you start from Le Puy en Velay, the departure is in the morning, after the mass of blessing of the pilgrims at the foot of the steps of the cathedral.
We have a very good knowledge of the Way of Saint James, because we have walked it in its entirety several times (1998, 2003 and 2005). We can therefore advise you and help you prepare your trip, whether it is a trek or a pilgrimage.
For those who come by car, we suggest that the driver comes to our farm (10 minutes from Conques) after dropping off the rest of the group at the starting point chosen on the Way. We then drive you with the donkeys back to the starting point, which allows you to avoid the difficulties and costs of returning to the place where you would have left your vehicle.
In case of abandonment for any reason, we will repatriate you to our farm to get your car back.
You have the choice to start and finish your Way of Saint James wherever you want. For example: from Puy en Velay, Nasbinals, Aumont-Aubrac to Conques, Figeac. Or you can go from Conques to Rocamadour, Moissac…
Rates – short courses
For 1 donkey
Low season
Out of vacations
Middle season
School vacations
High season
From 01 July to 25 August
First day
53 €
58 €
63 €
Second day
48 €
53 €
58 €
From the third day
42 €
47 €
52 €
+Travelling expenses for one to three donkeys: 1,20 €/km
Pilgrimage to Santiago de Compostela – GR65 – Via Podiensis
Flat rates for the most popular sections
Including donkey rental and transportation
Low and medium season
Out of high season
High season
From 01 July to 25 August
* Average stage of 15 km/day
Le Puy en Velay – Conques
(12 to 14* days)
998 €
1143 €
Le Puy en Velay – Aumont Aubrac
(4 to 6* days)
866 €
963 €
Aumont Aubrac – Conques
(6 to 8* days)
690 €
730 €
Nasbinals – Conques
(4 to 6* days)
548 €
578 €
St Chély – Conques
(3 to 5* days)
461 €
486 €
Saint Côme – Conques
(2 to 4* days)
379 €
399 €
Low and medium season
High season
* Average stage of 17 km/day
Conques – Cahors
(8 to 10 days)
762 €
812 €
Conques – Laburgade
(7 to 9 days)
693€
738 €
Conques – Vaylats
(6 to 8 days)
624 €
664 €
Conques – Limogne en Quercy
(5 to 7 days)
548 €
583 €
Conques – Cajarc
(4 to 6 days)
497 €
527 €
Conques – Figeac
(2 to 4 days)
324 €
383 €
Conques – Rocamadour
(5 to 7 days)
623 €
658 €

We specify that we can transport and recover the donkeys everywhere on the Way and elsewhere
. On request, we will send you a personalized quote according to the length of the stages desired and the places of departure and arrival of your choice.
Optional: Luggage transport from stage to stage.
Your turnkey path
Leave with a clear mind… we take care of everything!
We also offer "turnkey" packages, including the organization, the breakdown of your stages, the reservations and the payment of your accommodations on the Way.
You won't have to worry about "where am I going to sleep … and my donkey?"
Just tell us your wishes (stopover gite, Christian hostel, guest room or hotel, family room or dormitory, half board or full board)
The experience we have acquired on the Way over time, allows us today to offer you, whatever your profile (family with children, experienced walkers…), a division of stages and a choice of accommodation that will meet your expectations. We carefully select the hosts who will welcome you with your donkey and we guarantee the quality of their welcome. The cost of the service varies according to the type and the formula of accommodation chosen. Indeed, the cost of a full-board guest room is not the same as that of a dormitory with kitchen facilities.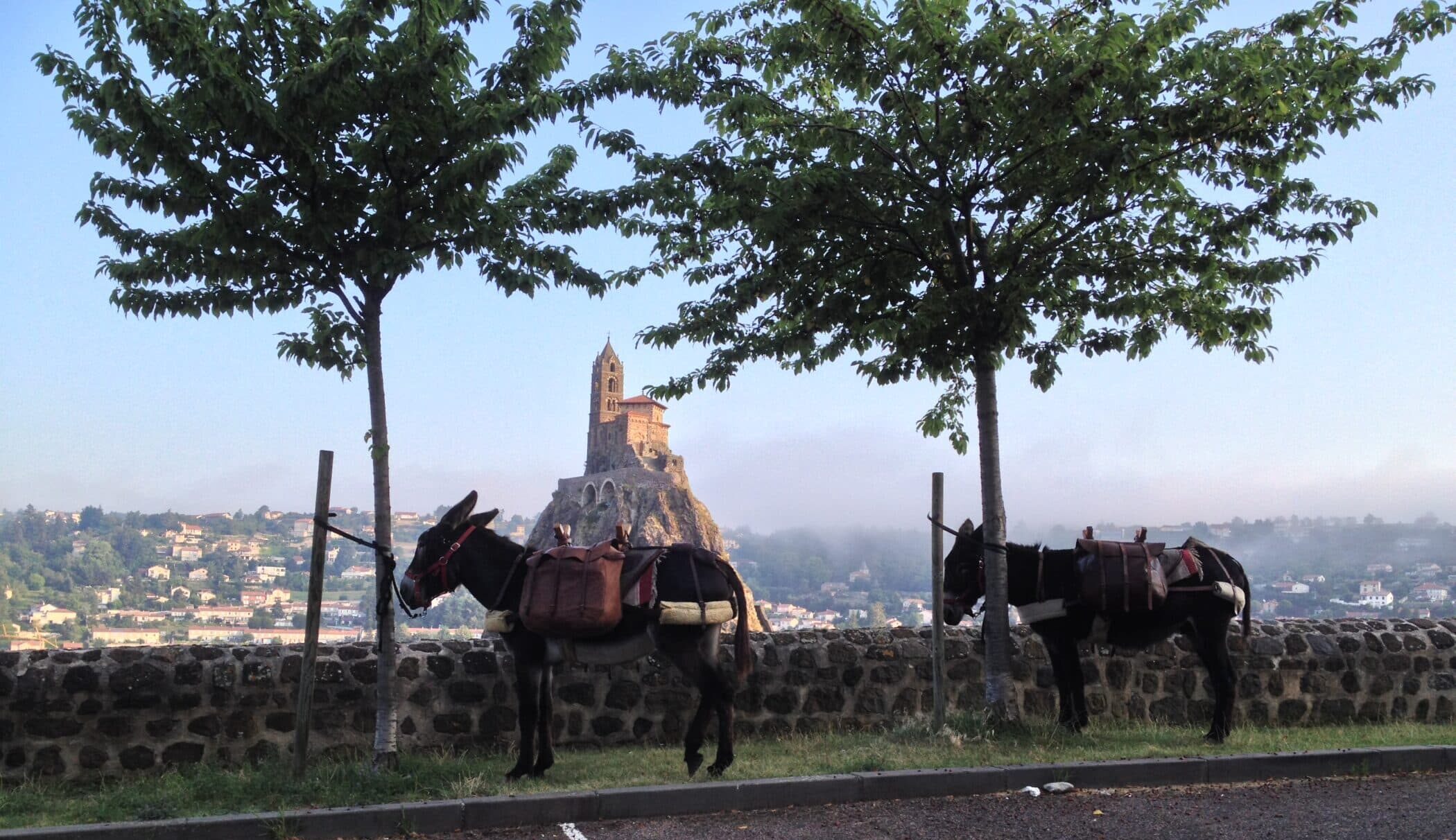 Take the time you need to live your path!
We take the donkey(s) to your starting point and, at the end of your journey, we come and pick you up. In the case of a long distance trip, the rates only take into account the distance traveled. The time it takes to get to your destination will not affect the cost of your trip.
Long term rates
Rates – long courses
le Puy en Velay / St-Jean-Pied-de-Port
990 €
St-Jean-Pied-de-Port / St Jacques
1250 €
Le Puy en Velay / St Jacques
1900 €
Vézelay / Ostabat
999 €
Vézelay / St Jacques
1900 €
Arles / Le Somport
999 €
Arles / St Jacques
1900 €
+ transportation cost
450 € for Le Puy en Velay
460 € for Arles
490 € for Vezelay
580 € for St Jean de Pied de Port
700 € for repatriation from Santiago de Compostela