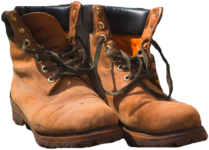 Hiking with a donkey: a natural and authentic vacation, a return to the roots
Hiking with a donkey will allow you to find the essential: moments of complicity in family, small happiness, great memories, an immersion in nature and a feeling of plenitude and return to the sources…
To each his own hike …
Donkey rides, family walks with a pack donkey, unusual stays with donkeys in the heart of nature or itinerant tours in cottages or guest houses with donkeys…
To each his own donkey …
Cuddly little donkeys with a quiet walk for families with young children,
Donkey porters and good walkers for the adventurers a little loaded,
Robust and enduring donkeys with a steady step for experienced walkers …
Enchanting landscapes as a backdrop for your vacation
Diversity of landscapes, unknown environment, historical buildings, plunging views, horizon as far as the eye can see, green and preserved nature … Your stay will make you discover all the splendor of the Lot and the Aveyron.
Hiking with a donkey : the playful companion of your vacations
You were hikers and wish to make discover this activity to your children… The donkey is the ideal vector to bring your charming little ones to walk without constraints. In short, the donkey will be the carrot that will make your children move forward.
The donkeys … Always ready to accompany you in your peregrinations, like to be cajoled, very respectful towards children, intelligent, patient, clever, facetious, sweet, respectful, endearing, serene, willing.
Walking with a donkey is an incredible social vector … The presence of your long-eared companion will arouse curiosity and sympathy all around you, a climate conducive to beautiful human meetings.
Give yourself time to live in the moment
Your hike will of course be a magnificent adventure in the heart of nature, but it will also be oriented towards culture and heritage, with the passage through Conques, a village classified as a "great site of France" and listed as a World Heritage Site by UNESCO.
Our stays with donkeys are tailor-made and can be adapted to your vacation project: several tour lengths, several possible accommodation options. If you don't find what you are looking for in the proposed hikes, don't hesitate to contact us, we will be happy to elaborate with you the hike of your dreams!
An adult walks an average of 3.5 to 4.5 km per hour
A child under 10 years old walks on average 2.5 to 3.5 km/h
A child under 5 years old walks on average 2 to 2.5 km/h
A donkey "can walk" up to 4 to 5 km/h
A well-educated donkey adapts to the walking rhythm of its leader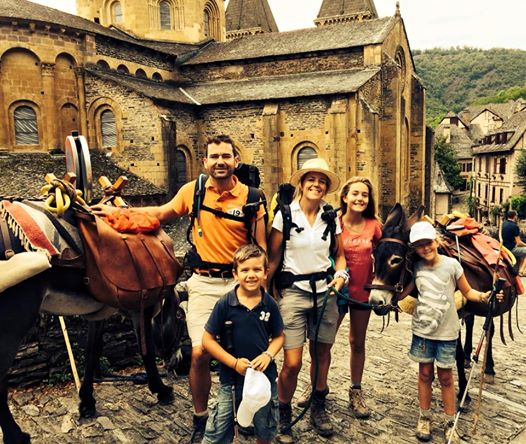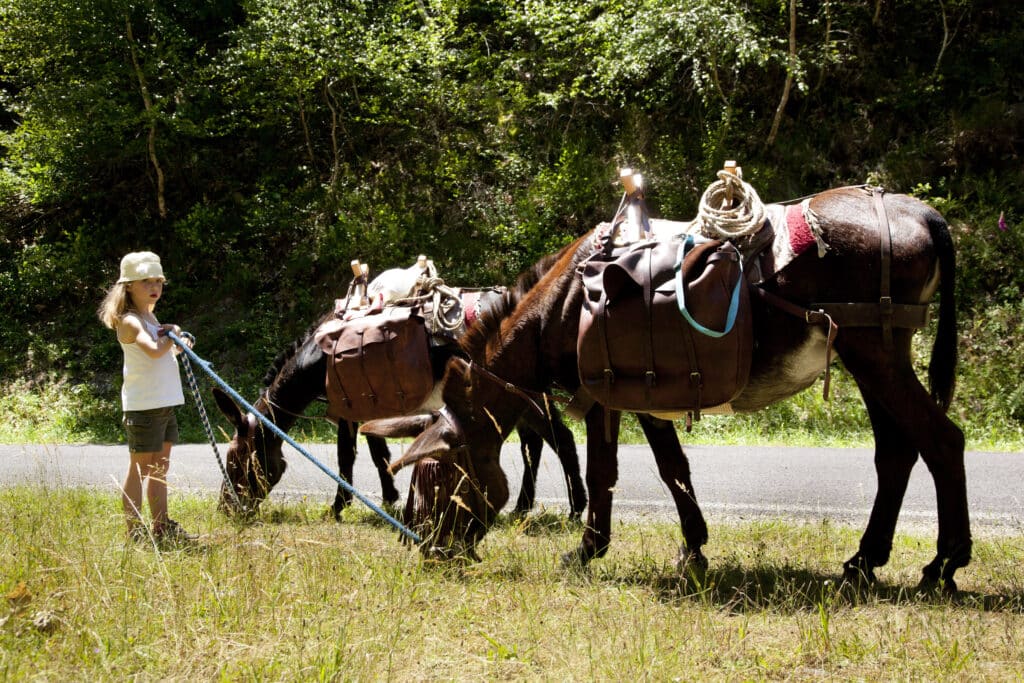 We do everything possible to offer you a quality stay, an unforgettable vacation.
Our stays are moments of family sharing in a breathtaking setting in the company of professional donkeys, offering you "turnkey stays and all-inclusive packages".
Don't worry about getting there! Your long-eared companion is an excellent guide with a sure footing, we also provide you with IGN maps and a personalized topo-guide with a description of your walk with donkey… Moreover, all our hikes are marked out. The children will take to the game and will compete of attention to find the marks on the rocks, the trees…
We always take care to adapt the length of the stages, the type of hike and the donkey that we will entrust to you according to the profile of your group and the age of your children.
A tailor-made organization for your itinerant stay
The donkeys of Monédiès welcome you the day before your hike. For this first night, you will sleep in our yurt, an unforgettable experience!
On arrival you can settle in comfortably and take a well-deserved rest after your trip…
You will then have the pleasure of meeting your long-eared companion.
At the end of the day we will take the time to explain to you how to prepare your luggage and balance the load in the panniers so that you can calmly organize your pack.
After a good night's sleep and a hearty breakfast, we will meet to teach you how to pack and take care of your donkey in complete safety, and to review your itinerary. We then accompany you at the start until you feel completely confident with your travel companion.
You will be surprised to see the development of a wonderful relationship of complicity and affection between your children and your donkey, as well as a sense of responsibility on the part of your elders.
All our hikes are private, so you will be alone to walk with your donkey.
At each stage everything will be provided for the reception and the feeding of the donkeys.
Our donkey rental packages have been designed for families with children, but are equally suitable for solo hikers and hiking groups, wishing to have a turnkey stay with a level of accommodation in comfort++ and very good restaurants such as those of the hotel de la terrasse, the Auberge du Fel…
For the rates of multi-day hikes, please consult the "Details of your hike and rates" page
The rates are given as an indication and the accommodation and meal formulas that we propose are entirely flexible.
If you want to go on a trip on the Way of St. James, check out our Way of St. James page.
Our structure is equipped with a Randoline, this vehicle pulled by a donkey is intended for the excursion of the people with reduced mobility. To learn more, visit the Randoline website.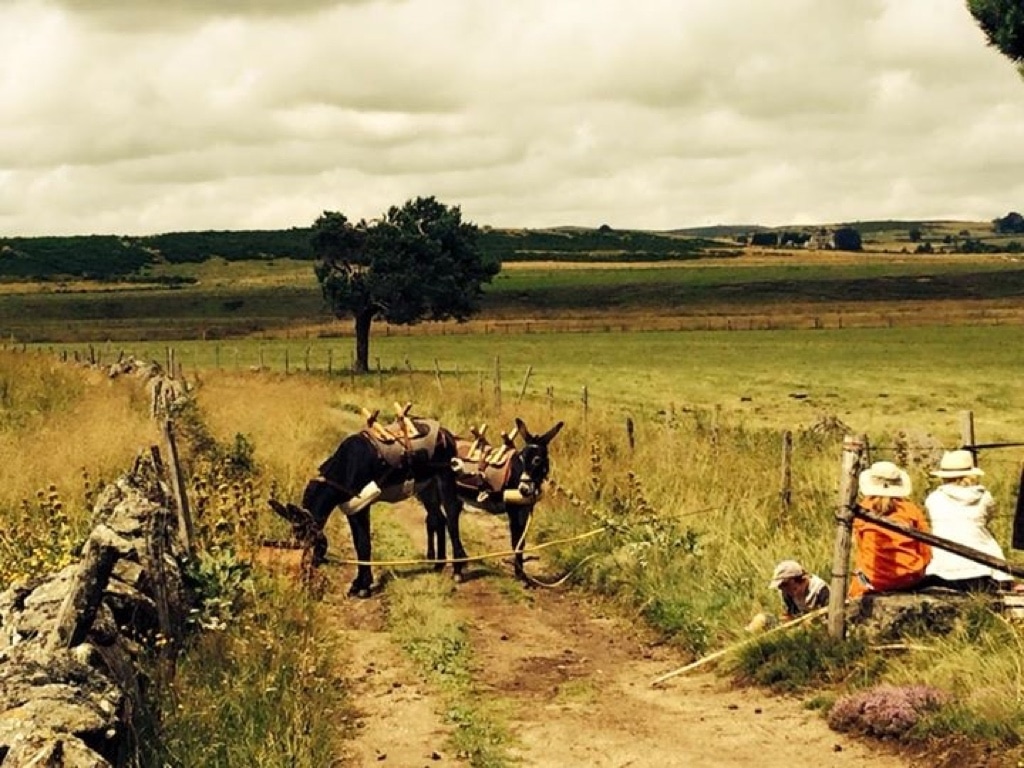 The organic donkey milk of the donkeys of Monédiès !
No one is unaware of the use Cleopatra Queen of Egypt made of donkey milk to preserve the youth and beauty of her skin…
However, donkey milk offers many other virtues, often little known to the general public, which are those of being a real ally for health and well-being when consumed as a complement to a healthy and balanced diet or as a substitute for cow's milk.