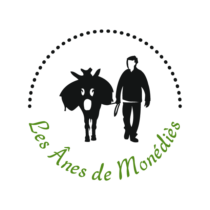 Our hikes with a donkey to discover the departments of Aveyron, Lot and Cantal
Whether you come for one, two or more days, whether you are a beginner or an experienced hiker, whether you are discovering donkey trekking or are already a great adventurer, alone or in a group, with your family and your children or teenagers, you will find the donkey trek adapted to your wishes: a one-day walk with a pack-saddle donkey, an itinerant circuit in a loop or a linear trek of several days with donkeys.
You will enjoy hiking with a donkey, a playful companion, who will carry your young children and motivate the troops to walk! You will discover the complicity that quickly settles in with this intelligent animal and the harmony it creates around it … between family members, with nature … all the simplicity and happiness of being together and sharing an original and unforgettable adventure, going from discovery to discovery.
Our family tours of several days
You will have the choice between playful walks around the Monédiès donkey hamlet (Les Bréfinies) and the discovery of Conques like the pilgrims of the Middle Ages by walking on ancestral paths. You can also take the sumptuous Lo Camin d'Olt which will guide you between the Cantal mountains and the Lot valley through centuries of history and life…
For all our hiking tours, we offer different organization and accommodation options to discover in the tab "DETAILS AND RATES" of each stay

our stays with a donkey ➜ of pack on the "camin d'olt"
tours between nature and adventure ➜ between rouergue and auvergne
WALK AROUND THE BREFINIES
Breathe in the green of our region, take the time to live the moment by walking a day on marked trails. After some advice, we entrust you with a donkey and you leave for a donkey ride on the paths around the hamlet of the Ânes de Monédies (Les Bréfinies). You can choose between several marked circuits whose distance varies between 5 and 15 km.
On your route you will find beautiful spots to picnic and nap while your children wade in the river.
We provide you with maps and topo guides.
All year round by appointment, reservation required by mail or phone
Price : 65 €/ day for a donkey
Practical: closed shoes, suitable clothing for walking and depending on the weather, bicycle helmet for children recommended.