Great loop between Rouergue and Auvergne
› Place of departure :
Les Bréfinies
› Type of hike:
familiale
› Level :
facile
A beautiful and long loop of 9 days between Rouergue and Auvergne for a total immersion! A stay which will leave you time to contemplate, to take advantage of the preserved and green nature; and will be the occasion to create a beautiful complicity with your companions of road, our donkeys of Pyrenees.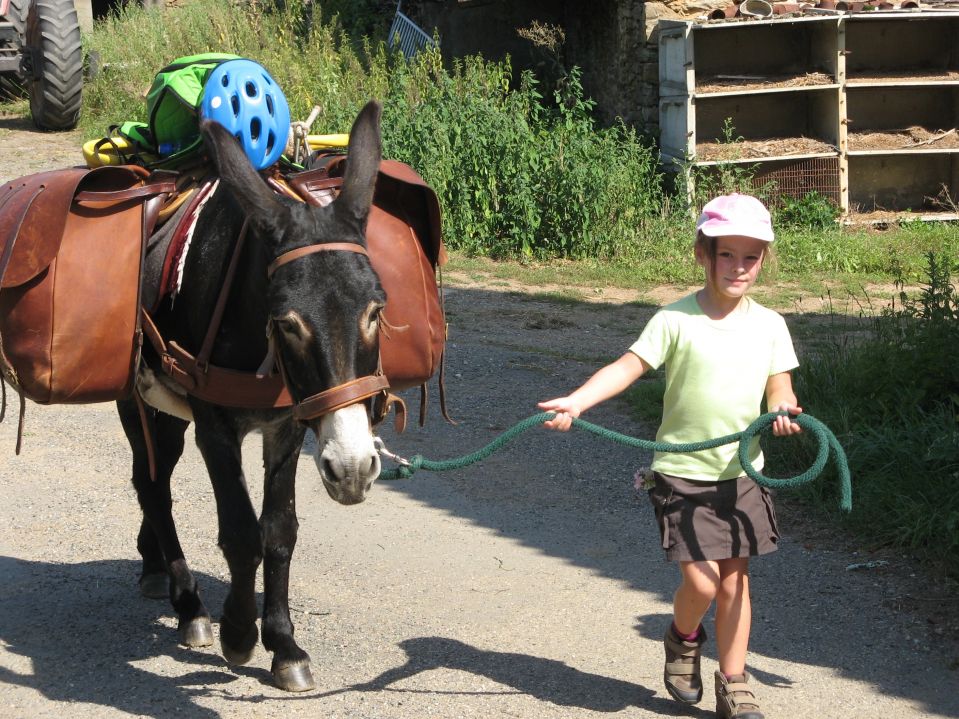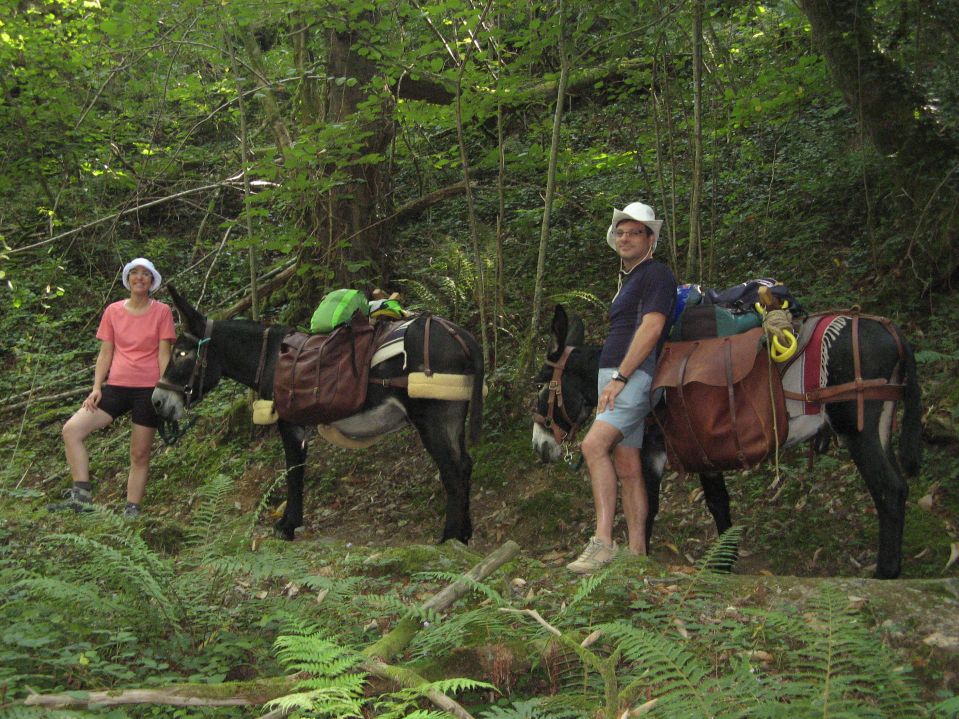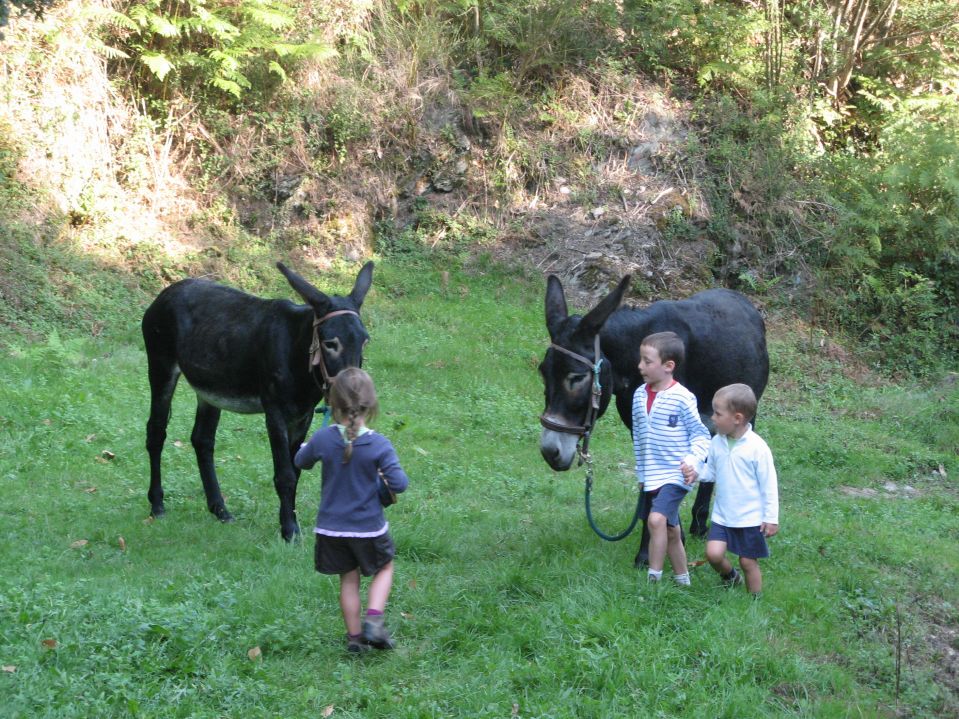 J22-Preparatifs-depart-3-
In the program
DAY 1 - 12 km
Les Bréfinies ⤍ Grand Vabre
For the departure of your 9 days donkey trek, we welcome you in our Pyrenean donkey farm, in the hamlet of Bréfinies. After advice and explanations, you will set off on the roads of Aveyron, towards Grand Vabre!
Through the plateau of Almont-Les-Junies, your itinerary will allow you to admire incredible panoramas on the Monts du Cantal and the Aubrac Plateau.
A picnic break at the Pre-Romanesque Chapel of Monédiès will allow the whole group to rest their legs (or paws) and admire the scenery, giving you the impression of being back in the Middle Ages.
At the end of this day of hiking between large green areas and chestnut groves, you will arrive in Grand-Vabre to stop for the night.
DAY 2 - 12,5 km
Grand Vabre ⤍ Vieillevie
Take the time to start this second day of hiking to stroll through the streets of Grand-Vabre, this small picturesque village whose Chapelle Dadon contains its share of anecdotes about the region.
Your hike to Vieillevie (where you will stop), will be between large open meadows and luminous forests.
DAY 3 - 10,5 Km
Vieillevie ⤍ Le Fel
Before starting your day's hike, take the time to go for a walk in the charming village of Vieillevie. Go back in time to its great era, when the village animated the township with its renowned donkey and horse fairs. To help you visualize these moments of life, go to the foot of its 15th and 16th century castle with wooden hoardings, or to its small Romanesque church decorated with historiated capitals and double-arched windows.
The day's itinerary leading to Le Fel will also take you to the surroundings of Vieillevie and its historical nuggets, specific to the Lot Valley: the hamlet of Montarnal built on its ancient 13th century fortress, or the neo-Gothic church of Notre-Dame-d'Aynes housing the relics of Saint Brandan, reputed to heal skin diseases
DAY 4 - 15 Km
Le Fel ⤍ Entraygues
Le Fel is a small picturesque village full of surprises and worth a visit! Take the time to stroll along its main street which makes its specificity: perched on a ridge at 500m of altitude and dominating the Lot Valley below, the village stretches on nearly 300m, with an impressive view on the surrounding valley.
This walk in this village on the heights will be the occasion to discover one of its specialities: its ceramics. The Fel is indeed one of the largest European centers of contemporary ceramics, so you can discover sculptures and exhibitions, in a poetic and refined atmosphere. More information on the site Le Don du Fel
Your hike of the day will take you to Entraygues, on a path along the Lot, between forests and vineyards, another surprise of this stage: you are in a wine region, where the vine is worked on the steep and rocky hillsides since the 1st century AD. Here is the most southern of the Auvergne wines, benefiting from an AOC since 2011.
DAY 5 - 10 Km
Entraygues ⤍ Golinhac
After several days of hiking in the middle of nature and passing through small villages and hamlets with flowers, Entraygues will give you the impression of a big city, and you will enjoy walking around it for its medieval atmosphere. Its narrow streets, its half-timbered and corbelled houses from the 15th and 17th centuries, its castle and ramparts, its bridges, here you are immersed in a medieval atmosphere.
After descending into the valley to Entraygues, let's go up on the plateaus to Golinhac, nicknamed "Colline du Regard".
DAY 6 - 11 Km
Golinhac ⤍ Sénergues
You join here the famous Way of Saint Jacques de Compostelle and borrow a part of its route, the GR65, and more precisely the way of Puy en Velay (Via Podiensis).
Golinhac is a village where pilgrims have left their mark: a cross representing three shells and a pilgrim holding his bourdon (stick) dating from the 15th century, and its church of Saint Martin preserving the Romanesque foundations of an 11th century priory which depended on the abbey of Conques.
On a gentle slope and through fields, you will reach Sénergues where you will stop for the night.
DAY 7 - 11Km
Sénergues ⤍ Conques
During your hike of the day, you will discover Sénergues, a small village with a typical architectural heritage of the Lot: a beautiful church dedicated to Saint Martin, and a 16th century castle, a large seigniorial residence.
Sénergues is also a stop on the Way of Saint James of Compostela, pilgrims used to stop there since the 11th century on their way between Le Puy en Velay and Conques.
Like a pilgrim, your next stop is Conques, which is an amazing sight for those coming from the west: a small medieval village nestled on the side of the wooded hill that appears before the walker on the opposite bank of the Dourdou.
Take a step back in time and walk through the narrow streets of this superb little village, recognized as one of the "Most Beautiful Villages of France", and whose abbey church is classified as a UNESCO World Heritage Site.
DAY 8 - 12,5 km
Conques ⤍ Le Fraysse
A beautiful walk with your donkeys in the green nature of the Lot for this penultimate day of your stay.
And if your itinerary is gentle, the highlight of this stage will be your night in a tepee at Le Fraysse! A camp in the middle of nature, in a wild and green meadow, a small stream for the children to play, a forest to collect firewood and prepare the campfire, a barbecue dinner: these are all the ingredients to feel like a trapper, an adventurer! Unforgettable evening guaranteed!
DAY 9 - 10,5
Le Fraysse ⤍ Les Bréfinies
By taking a part of the path of Saint Jacques de Compostelle, the famous GR65, the itinerary of your hike of the day by the Chemin des Bagnards, will take you between forest tracks and flowery hamlets, with superb panoramas on the Aveyron landscapes.
You will arrive directly at our farm "Les Anes de Monédiès" in the hamlet of "Les Bréfinies", after a beautiful 9 days stay in company of our donkeys.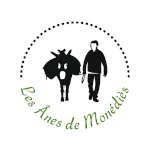 To obtain a quote corresponding to your wishes, please complete the online form. If you need any information, do not hesitate to contact us by phone.

Terms of Sales
Learn more about our accommodations